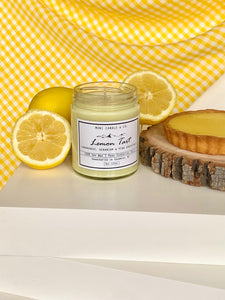 Lemon Tart Candle
Lemon Tart
Lemongrass, Geranium & Pink Grapefruit
A tasty pastry filled with a delicious lemon flavoured custard in a crispy yet flakey shell. Don't forget the whipped cream!
Each candle is thoughtfully handcrafted with eco-friendly soy wax, pure essential oils and a woven cotton wick.
| 9oz | 255g |
| 100% Soy Wax |
| Pure Essential Oils |
Pleasant scent
I love the Moni Candle summer fruity scents. I enjoy the lemon tart but the Mojito is my fav!!
---
We Also Recommend
---